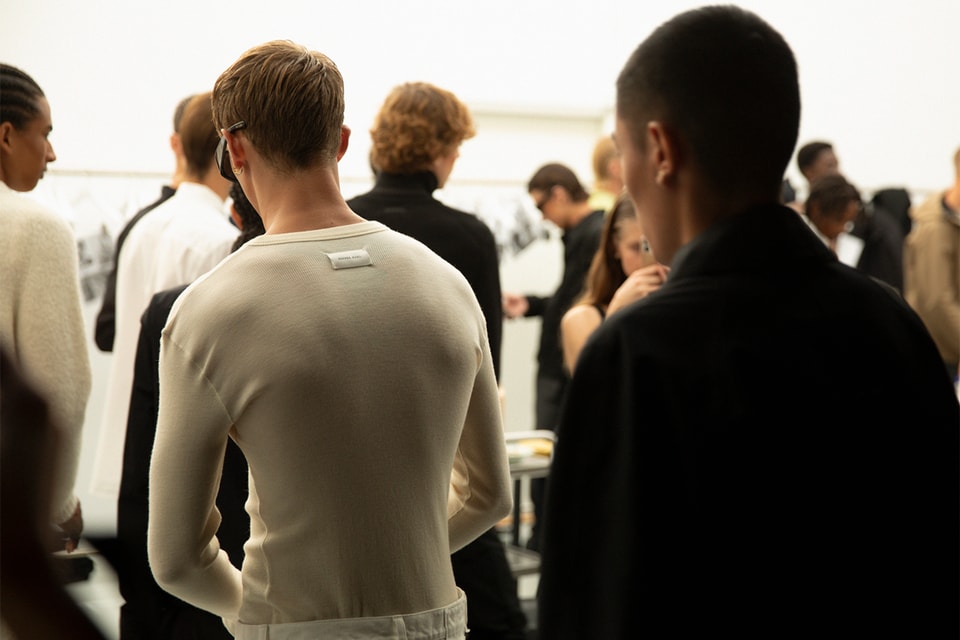 One of the strongest collections at Copenhagen Fashion Week came from the very first brand on the schedule. Local designer Frederik Berner Kühl returned to showcase the Spring/Summer 2023 collection from his eponymous label, further developing the ideas he has showcased since the beginning. At the heart of the Berner Kühl brand is the combination of the often competitive worlds of luxury and performance, perhaps best encapsulated by a trench coat that appeared in the SS23 show.
"That high-performance outerwear really sums up what we want to do," says Berner Kühl of the jacket, which is traditionally cut, made from a textured double bonded nylon and finished with technical details. "We want you to be able to wear it day in and day out, styled with a suit, styled very casually. It doesn't matter if it's raining or you have to go to a fancy dinner, it will always be there to support you."
"We want you to wear it day in and day out, styled with a suit, styled very casually."
Throughout the collection, Berner Kühl has revisited this theme: no matter how classic a garment may look, it should enhance the wearer's everyday experience. The designer points to ribbed T-shirts made from 100% merino wool ("it doesn't lose shape, it regulates temperature") and the newly introduced Japanese denim pieces ("some of the most durable pieces you can make"). All these fabrics, materials and finishes were chosen for the same reason. "It's that idea that you can wear your clothes in any environment," says Berner Kühl.
While this theme runs through Berner Kühl's collections – and is the ethos on which the brand is based – the label has still evolved in the year since the first show. A major shift is the brand's confidence in itself and in its mission, as evidenced by the SS23 show, which opened with a model wearing only a long-sleeved T-shirt and jeans. It's a brave move to open up all fashion week, not just your own show, with such a simple look.
"We knew what we wanted to say and we were bold enough to open the show like that," he explains. "Everyone can empathize with such products. Last year we were afraid of being too boring, we kept wondering what to add to a piece to make it show relevant. Now we can say much more confidently that we don't need to add anything, this is what we do."
The message in all Berner Kühl designs is that wearable does not equal boring. While those pieces may look simple, they are elevated by the constructions, fabrics, and details used. "It's a very nice uniform for every day, which you don't think about, but it looks a bit better than what you would normally wear," adds Berner Kühl. "I've been wearing the jeans for 3 months now and they still look good. That is the essence of what we are trying to show."
For the SS23 collection, the young label introduced a new theme, in which sustainability is a constant point of reference. The clearest example of this is undoubtedly the Japanese denim that opened the show. "In the world we live in, you don't have to do as much sh*t," continues Berner Kühl. "The only way to do that is to make something that lasts longer." In addition to the jeans, he points to the tailoring that is reflected in the collection. "It's still 100% wool, but we've given it a bio-coating. If you wear wool trousers for a year, they may get tired, but this keeps the fabric the same as when you bought them."
"All the details we put into the product are meant to make it longer or more durable."
The use of bio-coating is just one of the ways in which Berner Kühl tries to preserve these products. "All the details we put into the product are meant to make it long-term or more durable, through the stitching, the way it's made or the pattern," he says. "There are a million details that go into that one product. That's why you need time, you can't make that perfect product in one go. It won't be perfect for two or three seasons, once you've tweaked it and found out what isn't working. You shouldn't go too fast. You need to figure out why this works and how you can make it 10% better next time."
Berner Kühl's SS23 collection, and the second show, shows how the brand has tweaked and refined things over the past year. All of this focuses on improving everyday clothing and creating items that can be worn when needed. "We have performance and we have luxury, and we combine them," explains Frederik. "It's going to be a new kind of luxury, something that will always be there for you."