for those who prefer their international cricket to a red ball rather than a white ball have demanded a lot of patience over the past six weeks. Ben Stokes was one of them, the English test captain itching to rekindle the magic that lit up the first half of the summer with those four heady wins against New Zealand and India.
To this end Stokes held a team meeting on Sunday when his players got together again before the first Test against South Africa starting on Wednesday; a refresher course intended to reaffirm the positive ethos he and the head coach, Brendon McCullum, demand.
"It's the last time I'll ever write on a whiteboard," he joked Tuesday after their last workout. "I had to ask how you spell 'environment'."
Stokes may not be sure of the exact letters in the word, but seems to have a good grasp of its meaning. Players, young and old alike, are visibly enjoying the new ethos of relaxed training sessions, aggressive play and selective loyalty under his leadership. Winning clearly helps here, but their upbeat approach to each day and session was a marked difference from last year's fears of the previous regime.
There have been sliding doors, of course, whether it's Colin de Grandhomme's no-ball at Lord's, dropped catches at Trent Bridge or New Zealand's failure to judge an lbw yell at Jamie Overton at Headingley, just five runs in a score of 97 that made up half of a match-defining seventh-wicket score of 241. England have also benefited from the particularly stellar form of Jonny Bairstow and Joe Root, the pair who made hay against what was a substandard batch of Dukes balls.
But they've also come out of some tight spots with character, like sending 553 against New Zealand at Trent Bridge or overcoming a deficit of 132 in the first inning against India at Edgbaston. Four goals they may have been up against before have also evaporated, not that Stokes is making too much of a fuss about the end result. "Honestly, if we had lost 4-0, I wouldn't be sitting here changing the way I ask the guys to go out and play," he said.
The hope now, he said, is that this will trickle down to the county game and boost support for both England and the longer format as a whole.
The question many are asking is how England will fare if they bat first and how sustainable is all of this in the long run. After the diet of internationals with white balls and the Hundred, there will be a three-game meeting against South Africa, the leading side in the World Testing Championship, and thus the final exam. That said, a little extra patience may still be required. The recent heatwave has left London's parks and commons as beige as one of Richie Benaud's jackets – Lord's, lush green, has remained immune – but the forecast for day one isn't too bright.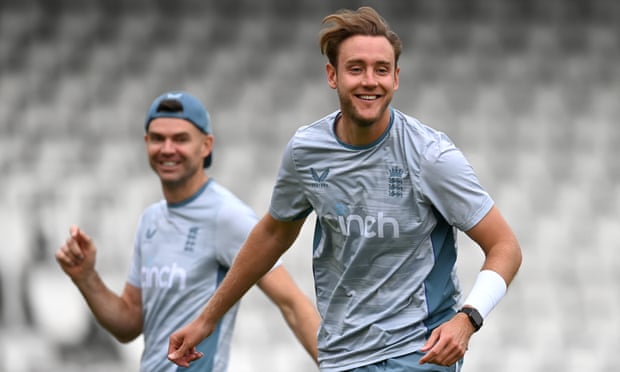 Dean Elgar, a South African captain whose percussion is likely to exhaust the synonyms for "gritty" in the next four weeks, is one of the skeptics regarding "Bazball". He said he was bracing for passages in the game when the numbers on the scoreboard spin like the wheels of a slot machine, but while he insisted he wasn't criticizing New Zealand and India's efforts on the field, he thinks his attack will serve as a general antidote. . "I would like to think from a bowling point of view, our bowlers are big, tall, fast and strong buggers and we ticked the boxes regarding the spin department," he said.
Among them is the stylish Kagiso Rabada, slightly overs but expected to be fit after an ankle injury, as well as Lungi Ngidi and the nimble Anrich Nortje who also sat out the recent warm-up against the Lions. If selected, newcomer Marco Jansen will offer a left arm angle of a 6-foot frame – even if his required bet at number 7 looked high – and they have two seasoned spinners to choose from in Keshav Maharaj and Simon Harmer. The former will likely get the nod to Lord's despite a Lions tear up, but the latter – a proven expert on English surfaces – should show up at some point.
Stokes described England's squad as "easy", their only tweak came via a return for Ben Foakes behind the stumps after missing Edgbaston with Covid-19. While Ollie Robinson looks sharp and sharp again after early season fitness issues, Stokes and McCullum find Stuart Broad's interventions – such as the third morning 'team hat-trick' against New Zealand on this ground – outweigh his record of 15 wickets at 38 this summer. If Broad and Jimmy Anderson open the bowling in both innings, they will have done so in 200 innings in Test cricket, while the former is also one wicket away from 100 Test casualties at Lord's.
Both veterans will be happy to see if the newest Dukes balls coming out of the Walthamstow factory hold up better than the ones used before – the flip side is that if they're stronger than before, more questions can be asked of the batters.
At another time, a player like Zak Crawley – 17.75 points averaging so far this summer – would be expected to play for his spot. But Stokes had none of it, praising the right-hander's selfless approach and describing his 100-run opening score with Alex Lees chasing Edgbaston as his favorite game moment yet.
Such a response is pretty much the Stokes way these days. He may have recently retired from one-day internationals and decided the whiteboard isn't for him, but when it comes to England's approach to Test Cricket, the captain's mind is firmly set.