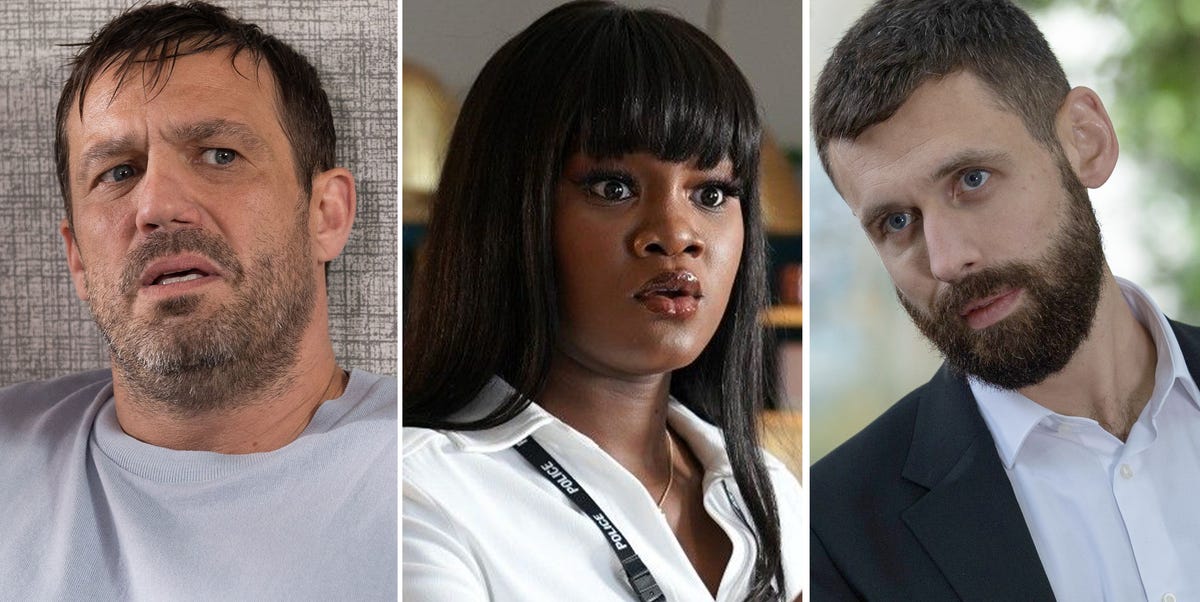 hollyoaks spoilers follow.
Up next week hollyoaksWarren is devastated to learn the truth about Joel, while James hatches a devious plan.
Meanwhile, Sam and Zoe recount their pasts and Victor's return story is revealed.
Here's a full roundup of the biggest moments to come:
1. Warren is shocked by his discovery
Warren is heartbroken next week after learning that his son Joel was the one who ran him over.
When Norma gets her hands on the incriminating letter, she tells Warren where to find the hit-and-run perpetrator. But what will Warren do with the truth?
2. Sam is urged to tell Zoe the truth
Sam is out of words after Zoe confides in him about a traumatic experience in her past.
She tells more about what happened and explains that she is seeking help at work after Saul's death. Zoe is confused by Sam's reaction to this, but it seems he is hiding something himself.
Later, Sam confides in Lizzie and Ethan, who encourage him to tell Zoe what happened to his birth mother.
3. Victor is back
Sid tries to convince Lizzie to go on vacation with him.
Lizzie agrees to think about it, but Sid is visibly shocked when he receives a letter from Victor in prison.
Lizzie later comes up with the idea of ​​traveling instead of going on vacation, but Sid keeps thinking about Victor.
4. Sam opens up to Zoe
After deciding to open up to Zoe, Sam explains that his family has a history of mental illness.
Despite Zoe's understanding, Sam lies at the last minute and tells her that it was Ethan who was struggling with his mental health, not his mother.
5. James comes up with a cunning plan
Donna-Marie is overjoyed about opening her gym this week, but James hopes she will fail. She goes to a meeting with her secret investor and discovers that it is Grace Black, and she is far from satisfied.
James later taunts John Paul with alcohol and lashes out at Donna-Marie before coming up with a dangerous idea.
Donna-Marie, Grace, Leela and Romeo work to get the gym ready for its grand opening, while James meets Norma with a cunning plan.
He suggests that Norma scare Donna-Marie into selling the gym for a low price by arranging a burglary. However, James panics at the eleventh hour when he fears he could endanger Romeo.
6. Mason gives Nancy an idea
Mason lashes out at Nancy when she offers to listen, claiming that no teacher cares about their students.
Nancy takes Mason's words to heart and asks Honor to be the school counselor.
7. James makes a big confession
James worries about Leela – who was injured in the break-in – but Ste confuses his concerns and thinks he's taken a new direction.
All eyes are quickly on James as he makes a big confession.
8. Misbah and Zain return from honeymoon
Misbah and Zain return from their honeymoon, but it's not all sunshine and roses as the couple can't stop bickering.
Yazz and Shaq want to help and are determined to get to the bottom of it. Will they be able to?
9. Tony and Diane's romantic plans are foiled
Tony is working with potential investors for a village carnival and Diane decides to surprise him with a flirty evening. Unfortunately, this leads to a very awkward moment.
Dave, meanwhile, runs the risk of having relationship problems himself if he forgets his birthday and only has a few hours to plan a romantic meal for Honor. Fortunately, Tony and Liberty come to his rescue.
Dave wants to give him something back and encourages Tony to do something special for Diane too, but again, things don't go according to plan…
hollyoaks streams first on All 4, with new episodes appearing every weekday morning. The show airs Monday to Friday at 6.30pm on Channel 4 and 7pm on E4. Selected omnibus episodes are available via Amazon Prime video.
read more hollyoaks spoilers on our special homepage