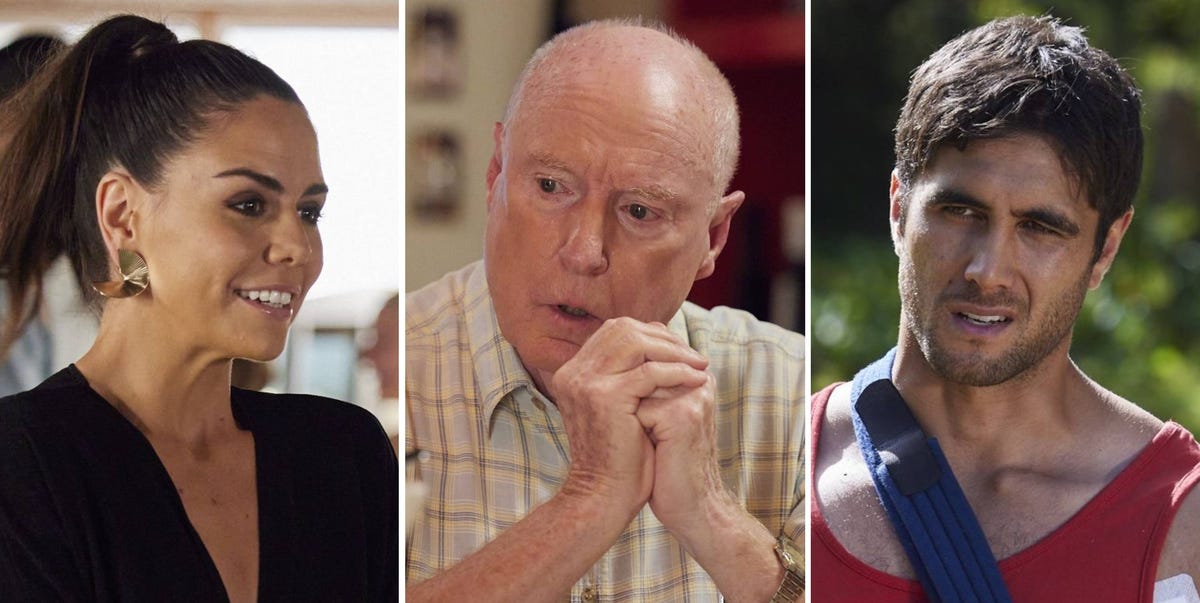 Home and away spoilers follow for UK viewers.
Up next week Home and awayTane has a confrontation with Tex and the biker gang.
Elsewhere, Alf contemplates his future in Summer Bay, while Mac considers dating again.
Here's a full roundup of 10 big moments to come.
1. Tane meets the biker gang
Tane is concerned after receiving a threatening note from the biker gang. He takes the bull by the horns by making an appointment with the group, who put a bag over his head and take him to a secret location.
Tane is shocked to learn that Summer Bay newcomer Tex is a member of the gang, not the avid gym goer he pretended to be. Gang leader Marty warns Tane that Ari once stole $150,000 from them and that they expect repayment, along with interest.
2. Tane receives a worrying ultimatum
The biker gang let Tane run free after their encounter, but they warn that they will be in touch again soon. Tane confides in Nikau about the situation and they agree that selling the gym is their best option for raising money quickly.
Tane meets with Tex to pitch the idea. Tex announces that the gang has a much better proposition – they will launder money through Tane's gym and he can repay the debt that way.
3. Nikau struggles without Bella
Nikau is proud of Bella when he sees some of the photography she has worked on in New York. However, he also misses her a lot and struggles to get time on the phone with her because she's so busy.
With the time difference causing trouble, everyone sees how much Nikau is struggling.
4. Nikau warns Chloe
Nikau ruins Chloe and Theo's date night and wants to keep an eye on Chloe while the biker gang threatens. When Chloe questions Nikau's behavior, he reveals that she is in danger, but refuses to explain further.
Chloe talks to Felicity about her concerns after Nikau's vague warning. Felicity sends her away, insisting that Tane would have said something if there was anything to worry about.
5. Ziggy hopes to play matchmaker
Ziggy is impressed that Mac spends so little time with Salt now that Felicity co-owns the restaurant. She thinks Mac needs some romance in her life now after Logan's recent departure.
Ziggy suggests that Dean could help pair Mac up with someone new, but he refuses to play a matchmaker between her and one of his surf friends.
6. Mac makes a dating decision
One of Dean's surf students asks for Mac's number, so he reluctantly gives it. Ziggy is excited and believes this is Mac's chance to move on.
Mac gets dressed for her date with the college student, but on the way to her scheduled meeting, she changes her mind and decides she's not ready for another romance.
7. Xander crosses the line again
Called to the scene of a car accident, Rose finds Xander already there, performing CPR on a young cyclist as part of his paramedic duties.
When the patient sadly dies, an overinvested Xander attacks the drunk driver who caused the crash. Rose is again concerned that Xander will not be able to handle the emotional consequences of losing patients.
Later, Rose becomes alarmed when Xander reveals his coping therapy – he gets a new tattoo to commemorate every dead patient. Shocked, Rose points out that his methods are untenable, especially since his body is already covered in tattoos.
8. Alf's Bad Mood Leads to a Big Revelation
Alf is in a bad mood after returning from a trip to Merimbula. Roo struggles to get to the bottom of it and eventually calls Martha, who is still gone.
Martha tells Roo that she has decided to stay in Merimbula permanently. Roo immediately begins to ask Alf what this means to him, but he storms off, refusing to answer her questions.
9. Justin gives Alf some space to think
Justin notices that Alf is having a hard time, so he invites him for a chance to talk and think things through in a less tense environment.
Alf tells Justin that he's afraid he'll have to leave the bay to be with Martha full-time. Justin points out that this would be great for Martha, but might not benefit Alf.
Later, Alf tells Roo that he will visit Merimbula and talk to Martha before making a final decision.
10. Lyrik Returns And Bounces Again
Felicity's band friends, Lyrik, return to Summer Bay after she contacted them about the possibility of regular gigs in Salt. While three of the members are ahead, lead singer Bob refuses, saying they are too big for small gigs in a coastal town.
When Kirby struggles to talk to Bob this time, he suggests they dump Remi and Eden and strike alone. Kirby refuses to support Bob, so he leaves the band and the Bay, leaving Lyrik without a singer.
Home and away airs weekdays at 1:45pm on channel 5 and 6pm on 5STAR. The first showings will air at 6:30pm on 5STAR and the show will also air on My5.
Selected classic episodes are available via Amazon Prime video in the United Kingdom.
read more Home and away spoilers on our special homepage
This content is created and maintained by a third party and imported to this page to help users provide their email addresses. You may find more information about this and similar content at piano.io